Every human has four endowments – self-awareness, conscience, independent will and creative imagination. These give us the ultimate human freedom… The power to choose, to respond, to change.
Stephen R. Covey
I had been 'casually interested' in the topic of NLP for several years and decided to attend an 'Introduction to NLP' session led by the wonderful Steve Payne. At the time, the co-authored book The 31 Practices had been published (to rave reviews 😊) and I had started to develop the my31Practices approach to help people translate their core values into day to day behaviour.
As I took my place at the beginning of Steve's session, it crossed my mind that he might be interested to review the book through an NLP lens. By the lunch break, because everything that Steve had spoken about was so aligned to the my31Practices approach, I found myself suggesting the idea that we co-author the My 31 Practices book and this is what happened! This blog is based on Chapter 18 Awareness from the book.
Neuro-linguistic programming (NLP) is a way of changing a person's thoughts and behaviours by bringing attention to their perceptions of the world. NLP is the science behind practices like mindfulness.
In NLP, awareness and something called calibration often go hand-in-hand. Calibration is described by NLP co-creator, John Grinder, as noticing change.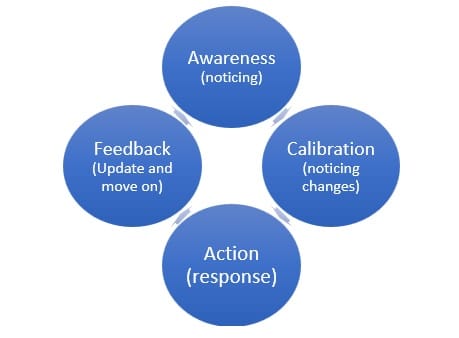 The awareness, calibration, and feedback loop
You cannot calibrate change without first being aware of what is changing. Awareness can be static whereas calibration has a more dynamic element to it. The figure above shows that without awareness and calibration, feedback is not possible.
For example, if you meet someone and his or her expression is neutral, you may "sense" or be aware of this neutrality. If this person then asks you who you are and you explain that you know a good friend of theirs, they may then become more open and perhaps start to smile.
You are likely to notice this change in their physiology and expression from neutrality to smile. In NLP, this dynamic awareness is referred to as calibration. In this example, as you realize the person is more engaged with you, you may begin to feel more relaxed. This relaxation is the result of the feedback you have given yourself based on what you have noticed about the situation and how it changed.
Robert Dilts developed a model as "a simple means to identify the key behavioural cues used by NLP to summarize the internal processes of others". This model can help you communicate more effectively by raising awareness of internal shifts or processing in others by noticing their external cues. Noticing these shifts enables you to adapt your behaviour in order to communicate more effectively.
The model is known as the B.A.G.E.L. Model and consists of paying attention to the following:
• Body Posture – how you sit, or stand can indicate the level of tension you are carrying. In addition, the position of the head can indicate if you are processing particular information: tilted upward – visual; cocked to one side – sounds; tilted down – feelings.
• Accessing Cues – NLP Eye Accessing Cues posit that your eye movements can indicate whether you are processing images, sounds or feelings
• Gestures – gestures made above eye-level can indicate visual processing, gestures to the mouth, ears or jaw can indicate auditory processing and gestures to the chest, stomach or below the neck can indicate the processing of feelings
• Eye movements – automatic and unconscious eye movements can indicate visual, auditory, or kinaesthetic processing
• Language Patterns – the words you use can indicate more visual (see), auditory (hear) or kinaesthetic (feel) processing
The link between intention and awareness
The cognitive psychologist, George A Miller, proposed that we can only be aware of between five and seven bits of information at any moment of time. If we overload the seven +/- two, if we add more information to what we are consciously processing, something has to drop out.
Take the example of a waiter or waitress in a restaurant. They may have a long list of special orders for the day. As they begin to go through their list, which they may have repeated numerous times earlier that day, notice what happens if you suddenly interrupt them with an unrelated question, such as commenting on what they are wearing.
Usually this throws them so that they forget what they were saying or where they were in their list because you have put a whole new set of thoughts into their conscious awareness. What about you? Has anyone ever distracted you by asking a question unrelated to what you were doing and then suddenly you forgot what you were doing? This is a product of our conscious mind's limited ability to process multiple tasks.
As the conscious mind is limited in its capacity to process information, there are some things that we simply cannot be aware of in any one moment. When we set an intention, we tend to focus on what is connected to the intention and we are not aware of other things. This certainly helps us focus and at the same time produces blind spots in our awareness.
When you are aligned with what is important to you (your values), your physiology, tonality and words are all saying the same thing. You walk the talk. You are congruent. When your physiology, tone and words are giving mixed messages, it could be that there is something that is not aligned, and you can explore what that is and act.
SERVICEBRAND
At SERVICEBRAND we believe understanding awareness is critical to healthy and positive self-development. (More detailed information about this can found in chapter 18 of the My31Practices book.) Many of the complex issues effecting organizations, stem from a lack of awareness around our behavioural impacts on those we work with and serve. If you are struggling to set the right tone and intention for your business, SERVICEBRAND Global can help.