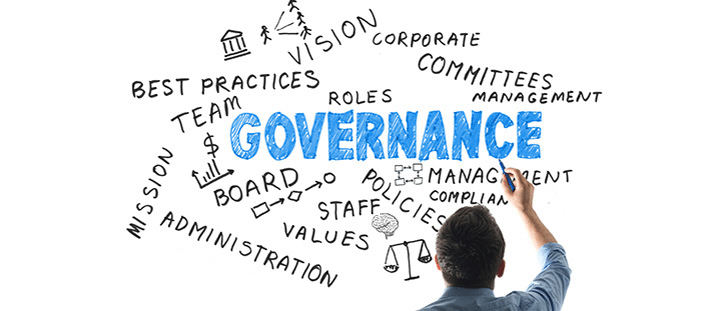 The last in our blog series on alignment, looks at governance, and the way in which conflict often arises when organizations move away from their values, causing misalignment with their service users, customers, and employees.
Governance is an amalgamation of policies, systems, and structures, along with a strategic, operational framework that aligns organizational leadership to take action, so that they can make effective decisions with accountability.
People over profits
In order to be successful organizations, need to move away from quantitative governance, towards a more qualitative model. When the discussion is always centred on quantity, alignment is at risk.
A common model for defining corporate governance is to describe it as comprising of four pillars: the board of directors, management, internal auditors, and external auditors. Gaining alignment among these pillars is not easy, but it is possible when you live your organizational values. People always have a sense of authenticity about the organizations they interact with. If the governance is strong, values-led and aligned purposefully, that message will permeate employees at all levels and out to customers, service partners and local communities.
"To lead their companies for the benefit of all stakeholders."
The statement is so simple; it is easy to overlook its profound impact. With this statement, the Roundtable CEOs are acknowledging the impact their organizations have on all stakeholders (customers, employees, service partners, communities, and investors/shareholders) and linking the value they provide to these stakeholders to the success of their companies, communities, and country.
They have committed to deliver value to customers, invest in employees, deal fairly and ethically with suppliers, and support the communities in which they work. This is quite a change from the profit and shareholder focussed approach which (in the extreme) takes advantage of customers, pays employees as little as possible for as much performance as possible, intimidates suppliers to provide more for less and uses communities and environments as resources to be exploited, depleted, and consumed.
Shared values
The people who live most purposefully and boldly embody their values, are not always the best able to teach that value back to others. There are repeating and noticeable trends of the effect of misalignment, anytime a major CEO leaves the company they built; consider Steve Jobs, leaving the company he built when the governance? fell out of alignment with his purpose, only him to be re hired 11 years later, after consistent profit falls. He may not have been the best able to articulate his purpose, but he lived it consistently and his passion to live purposefully, helped build Apple's cult-like following.
Today, people pay a premium for Apple products, in part because they relate to the company's purpose of enriching people's lives. This example should serve as a reminder to any governing body, not to fall out of alignment with the vision, purpose, and values of your organization.
That is not to say, you must live completely unrestrained and give everything away! More, it is about finding the balance between the head (governance and profitability) and the heart (Values and purpose). This is where alignment is key, when you are able to find a way to communicate purposefully, the profits come as a result of practicing authentic purpose. Lead with the heart but keep the head on track.
Governance evolved
The world is ever changing, the rigid reactive structures of old are being broken away, in favour of more active and fluid processes. These frameworks are more fit for purpose in the way they allow for quick changes to be made when things aren't going right. Having a governing board that is not accountable to anyone else, will never generate meaningful results.
The same is true, when a board spends all of its time in conflict over the outcomes of misalignment, poor public image, low profit, unhealthy workplace cultures etc. It's tough work, but if there is a problem with outcomes, it's important to examine the root cause of those issues, not just talk about the issues themselves. Don't get mad at the rain, understand why it's raining.
When done right, governing bodies will not be waiting for the next crisis, they'll be actively tackling the issues, to build trust within the societies they sit, rooting out unethical behaviour and giving people faith in their purpose.
SERVICEBRAND
The SERVICEBRAND framework can support governing bodies because of the 'whole organization' approach we are able to provide. Starting with how the organization's purpose and values inform everything that organization does (the good and the potentially limiting).
We can help you realign your organization, from the top down, across all service partners to provide the best possible customer or service user experiences. Tailor-made measurement and insight processes will cut away procedures that do not add value and implement effective communication, reporting and corrective strategies to ensure everyone knows how to be the best brand ambassador for your organisation.