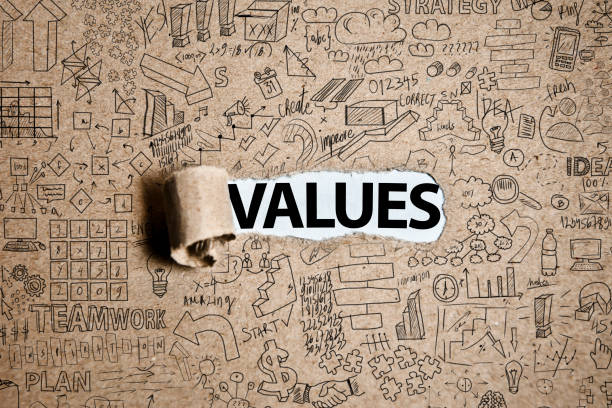 Taking the mystery out of values
The 'values' word has received increasing attention over the past few years and it has now become fashionable for people from all walks of life to use the word as a way to gain support for their point of view or cause. 'Values' is used freely but often in a general way without much consideration for any specific values and, even when these are used, they are rarely defined or described in practical terms. The word values has therefore become a word that most people are familiar with and yet, at the same time, far fewer grasp the meaning of.
For individuals, as well as organizations, values sit at the gateway between our inner and outer worlds. They describe what is fundamentally important and meaningful to us and relate directly to our sense of purpose and to our needs as individuals to survive and thrive.
Organisational values set out the principles by which the organisation aspires to practice in all areas of engagement with various stakeholder groups. At their best, they are a way to inspire employees to give their best and help other stakeholders to be clear about what is important to the organisation. At their worst, they are a meaningless set of words which are totally disconnected from the day to day reality of decisions and behaviours and might be referenced by leaders from time to time to 'validate' a message, decision or action..
When developed correctly, a set of strong values that are clearly articulated both internally and externally, will help build your brand identity, maintain employee, service partner and customer or service user loyalty, and provide room for the organisation to grow.
The challenge is that organisational values are sometimes treated as a marketing or PR exercise, led by a few members of senior management (and perhaps supported by external creative agencies) to create an attractive 'display' and documentation. The real test of values being alive in an organisation is whether everyone that works there can tell you what the organisation does, what its values are and what this means to them in their day to day work. In our experience, this is rare.
Worse still is when employees can list off the organisational values like a parrot, but there is no evidence anywhere of them actually being lived or put into practice.
Beating ambiguity
The size of your organisation doesn't affect your ability to define its values. But it is easy to get lost in the process if you aren't careful. Many businesses when starting down the road to identifying values, struggle to delineate and distil who they are at their core.
This can lead to walls and walls of laminated sheets with great words like 'responsibility, honesty, communication etc', that have no sense of uniqueness or real-life practice put into them.
The disconnect here comes from an inability to reconcile who you think you are with who your organisation actually is. Much like individual or personal values, the core values of your organisation should be borne out of your purpose and who you want to be, not only when times are good, but also in times of crisis.
Establishing values
If we remove money as a motivating factor, employees will almost always choose a career in an area that aligns with their personal interests and identity. When values are not made clear by the organisation, it can lead to people feeling mislead, and and an almost immediate disengagement from the employee.
Whether starting a business now or re-examining who you are in a time where employee engagement and alignment truly matters, establish your values first. Once you know who you are, it will be far easier to attracted talented people who will fit in and engage with your organisation.
Values in practice
Words are great, but don't often come with values practices to help create tangible and actionable behaviour. Everyone might have a slightly or more extreme different interpretation of the organisational values as they relate to their own individual experience.
The key to good values is how they are practiced. If you are stuck, begin to observe the behaviour of the people engaged with your organisation, what does it tell you about the type of people connecting with you?
How might that need to change or be altered to better reflect who you want the organisation to be at its core?
Once you can identify what you stand for, it becomes easier to see when things are not aligning correctly. Misalignment of values and purpose within organisations causes billions of pounds and hours of effort every year to be wasted. So it really is worth putting the work in and firstly developing your values and then further creating practices with which you can see tangible behavioural results.
Crisis shifts
Times will always change, and unforeseen events might occur that have the potential to shake organisations to the ground. Your values are what see you through the tough times to maintain and rebuild stronger in the aftermath.
The pandemic highlighted this mass shift, as it made it clear to service users who really lives their values and who doesn't. When you are inconsistent in your values, consumer trust is lost very quickly, can be slow to rebuild, and is sometimes lost forever. Make sure when creating a values plan, that the values you choose to represent you, are ones you will live even in a crisis. Those companies that put loyalty up on the wall, that then laid off many employees when the pandemic hit, have now seen dramatic drops in their profit and engagement since. If you can't be trusted, your customers will feel it.
More choice allows people to be more thoughtful and purposeful about their engagement and alignment with products and services. The clearer you are about who you are, the more easily likeminded individuals can find you, and when alignment is truly achieved, you'll have secured a customer for life.
SERVICEBRAND
Anyone can claim a set a values, but they are for nothing if not lived in practice. Approaches such as the Values Pledge and the award winning 31Practices approach can help to turn the conceptual into something more practical, taking values off the wall and translating them into concrete behaviours. Why not connect with us at SERVICEBRAND and see what we can do to help you navigate the world of values because we believe that values are for living not laminating.