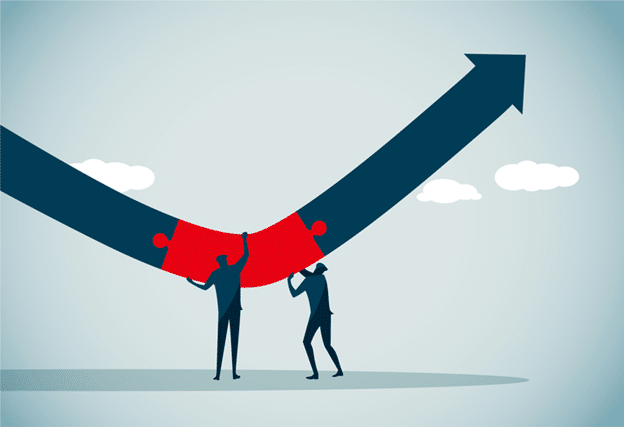 Organizations are becoming more aware of the value alignment can bring in increasing profitability, employee retention and customer satisfaction. Research suggests that highly aligned organizations are 72% more profitable and grow revenue 58% faster than non-aligned ones. When your strategic plan, company culture, employees and customers are all aligned with your purpose and values, the chances of growth are significantly enhanced.
So how do you choose which area to focus on first? Knowing where to start building alignment can be a challenge.
Slow down to arrest momentum
Understandably, many leaders start with energy and enthusiasm to develop new strategies to create improved alignment. However, one area that is frequently overlooked is the impact of the 'status quo'. How are your current strategic plans affecting organizational culture, customer experience and employee engagement? If misaligned strategies have been pulling your business off course, it is important to deal with these. 'There's no point hoisting new sails if you're still laying anchor.'
The key here is to understand the impact of a change in one specific area on other parts of the organization. For example, if you put in place a productivity initiative to enable call centre team members to handle more calls, what is the knock-on impact on their behaviour and, ultimately customer perception/satisfaction?
When you begin to understand the interplay between all parts of your organization, it makes it easier to identify points of friction and drag. These challenges can be expensive in terms of money, time, effort, morale, and employee turnover and impede growth and development of the organization.
Building on strategies
Having a clear strategy will help provide direction for everybody in the organization. A focus on the purpose and values of the business will provide a strong foundation to build a strategy on. It will create a compelling reason for employees to want to work with you, and for customers and service users to want to engage with you. However, an inspiring vision on its own is not enough. It must be supported with a strategic plan that is believable and achievable.
There will be issues with an alignment approach if leaders are not honest and transparent about their motivating factors. For example, it is fine to have a focus on profitability but, if this is the case, avoid stating your vision and purpose as being one of service to the community just because you are trying to create a harmonious and aligned culture.
Take time to consider deeply what it is you are offering, and why. When you truly know the why, finding people that are interested in achieving that same purpose will become easier. Once employees are in alignment with your purpose and values, they can become the best sales force and brand ambassadors you could ask for.
Alignment and Culture
One of the reasons alignment fails is the lack of harmony between the espoused culture employees and customers think they are engaging with and how things operate in reality. Time should be taken to capture measurement and insight about the perceptions of various stakeholder groups (customers, employees, service partners, investors, local communities) and their behaviour (through monitoring and observation).
Organization culture exists, whether this is by default or by conscious design, is up to you. How can you expect to scale your business as successfully as brands like McDonalds or Starbucks, if you don't understand how everything is planned? Why would anybody expect to create alignment, assist flow, and make scaling and growth a natural and inevitable result, rather than something that is a constant struggle?
High performance needs high performers
Growth comes when we find the right people to tend to our vision. People that share the same or similar ideals and values to us, that can find a home and purpose by aligning themselves with our organisation.
Values are difficult to teach. It is far easy to make it clear what you stand for and let people who feel the same come to you. How you attract employees and engage them will play a key role in driving their performance and thus your growth. If you're company culture or strategic planning are lacking, alignment will quickly dip, as the employee realises your organisation isn't the beacon, they had been looking for to help achieve their own desires for a meaningful and purposeful life.
SERVICEBRAND
At SERVICEBRAND GLOBAL, we believe in fully understanding the relationship between alignment and growth. We want to help organizations understand what is holding them back and how to create strategies, cultures and performance that will keep them on the cutting edge of their chosen industry. If you are looking for help in understanding how to elevate your organization to one of consistent alignment and growth, why not see what we can do for you?