Thinking about New Year resolutions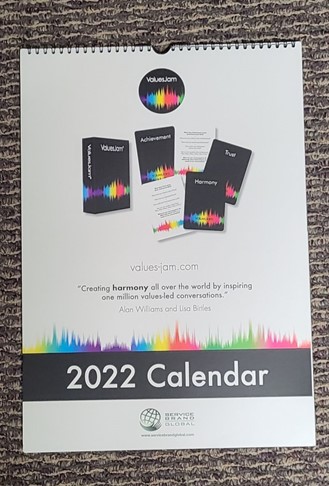 Several people have been very kind about this year's wall calendar. Specifically, comments have been about how beautiful the photographs are (in particular how uplifting January's photo is to start the year), appreciation of the values related lyrics for each month, the practicality of the calendar as a useful 'tool', how pleased people were to receive a surprise gift, and curiosity about the ValuesJam card game (did you see what I did there? 😉).
At the same time, because it is the beginning of the year, there is a lot of commentary and advice being posted on social media about New Year resolutions and goals/targets for the year. A conversation with ValuesJam co-founder Lisa Birtles caused me to reflect on the 2022 calendar 'project' in the context of how we approach ambitions for the year ahead.
By way of background, twelve years ago I decided to produce a wall calendar to send to people I had been involved with during the past year or even in previous years (clients, service partners, collaborators, family, neighbours etc) as a small token of appreciation. I enjoy photography so the concept was simple: select twelve photographs taken in the previous year (usually!) to create a practical gift with a personal touch. Then after a couple of years, a values-related quote for each month was added.
Disruption
COVID-19 had already made the 2021 calendar more of a challenge because of fewer international trips and this was even more pronounced during 2021 (ie the 2022 calendar content). Nevertheless, I was able to select twelve photographs that I was pleased enough with and reckoned that people would understand the situation. Everything was sent to the design and print company, the proof was approved and an expected delivery date was agreed for early December.
The day before the delivery, I emailed the company to find out what time of the day to expect delivery and, because the photos had been uploaded onto my laptop, deleted the photos from my camera. The next day, an email reply arrived from the design and print company stating that there seemed to be an issue with the resolution of most of the photographs provided. When I checked the files on the laptop they were about 10% of the resolution they were supposed to be… and I no longer had the photos on the camera in case the problem had been caused when they were transferred.
Did I panic? Was I upset? Was I frustrated? Yes. Yes. Yes. But this did not last long because I realised what was done was done. Even if the photos on the camera were of the right resolution, they no longer existed so this was irrelevant. Not for one moment did I consider any possibility that there would be no calendar. I was intent that people would still be opening their 2022 calendars and be able to enjoy them during the year. Instead, the focus was firmly on how to produce and send the calendars in the new circumstances. The question was "In the absence of a selection of photos from 2021, what are the options?" The first answer was "A selection of photos from previous years" and the idea of a 'back catalogue' concept developed.
Serendipitously, the first calendar was produced in 2011 (photos from 2010) so this meant that there could be one photo from each year 2010-2020 and an additional photo from 2021. Also, there was a 'fit' with ValuesJam and the music connection. The concept of the 2022 'back catalogue' calendar was borne and it took a week to approve the new design, for production and delivery. Dispatch was a little later than normal, but most calendars have arrived in time for the beginning of the New Year.
In addition, an unforeseen benefit was that it was really enjoyable looking back over photos from previous years which were a reminder of some great places visited and associated memories – it was an even more enriching 'process' than usual. And finally, it was much easier to deal with this year than if the same issue had happened in other years with more photos from a variety of international locations.
So what?
So what has this to do with New Year's resolutions? My take-aways from the 2022 calendar experience are all about the mindset and perspective you choose to adopt to what you are aiming to achieve as follows:
1) Goals (actions to achieve a positive impact) are generally more motivating than resolutions (giving something up).
2) Understand that the impact you are seeking to achieve is the ultimate aim and more important than the goal itself.
3) Be committed to delivering the desired impact. As Yoda says: "Do or do not, there is no try".
4) Be flexible eg the goal can be adapted to deliver the desired impact if circumstances change.
5) Sh*t happens – get over yourself and move on.
6) RoE (Return on energy) focus
a) invest in what needs to be done rather than waste energy on what can't be changed.
b) remind yourself of what you have invested so far, which will be wasted if you do not complete your goal, or a variation of it.
7) Be kind to yourself – you can only do what you can do with what you have got (thanks to Padideh Tosti for this gem).
8) Hold yourself to account – be creative, resourceful, and persistent (rather than give up).
9) Consciously consider your values to make choices and decisions easier.
10) Keep track of your 'performance', recognise successes and take action to correct shortcomings.