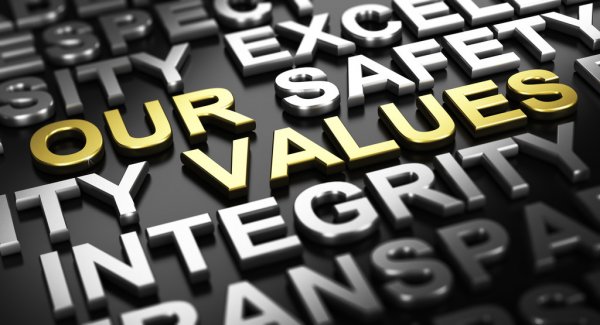 Some of the greatest 'awakenings' in the world have come about as a result of disruption. Disruptive events allow for a brief surfacing, a moment of crisis that generates a pause, and in that pause, there is space for reflection and rumination on what is truly important, as well as room for spontaneous and adaptable inspiration to strike.
For individuals, as well as organizations, values sit at the gateway between our inner and outer worlds. They describe what is fundamentally important and meaningful to us and relate directly to our sense of purpose and to our needs as individuals to survive and thrive.
The measures taken to combat COVID-19 enforced a new normal of separation and isolation. As we are gradually emerging from this crisis, perhaps we will come back together with a new and better understanding of who we are and what truly matters to us.
We are shaped by what we care about, the way people feel about their offices, homes and work are important factors in the overall success of the organization. Employees who feel their values are being met, those that are engaged by a clear and consistent set of values with which to align themselves are far more likely to be reliable, productive, and fulfilled.
Employee disconnection
Individuals and organizations face disruptions all the time, sometimes they are minor and manageable, like the retirement of valued colleagues or supply chain issues. Other times they are more serious, like the recent wave of increased cyber-attacks, and the impact of the COVID-19 pandemic.
One of the most startling findings to come out of the pandemic, and the rapid shift to remote working, has been the dramatic increase in productivity. At a time when people were panicked about trusting their employees to continue performing well without near constant oversight, they have risen to the occasion with over 71% of organisations saying that remoting work either boosted their productivity or didn't limit it.
Identifying values
Communication is key in identifying values. A select group of senior leaders distributing a list of values and demanding that employees embody them is not likely to be successful (surely no organization would entertain such an approach – you might be surprised!). Neither is it necessary (nor sometimes appropriate) for all employees to have the same degree of influence in making the decision. What is required is clear and consistent communication explaining the process to arrive at the values, the reasons behind it and the opportunity for questions and answers..
Communication can be tricky. As William H Whyte said in 'Fortune' magazine in 1950 "The great enemy of communication, we find, is the illusion of it." Having a full office doesn't necessarily mean you have good communication, and, in the same way, having remote workers doesn't always mean they will be left out of the loop to fend for themselves.
Seeking to identify your organizations values will help to drive performance (and profitability), by aligning everyone with the same sense of collectively built purpose and establishing 'the way things work around here'.
What matters to me?
Before we are able to fit in with a group, we need to spend some time identifying what matters to us as individuals. The impact of the pandemic forced a dramatic shift in consciousness, with many people reassessing the relative importance of family and work and some realising that an office environment is not the most suitable for them.
Figuring out what matters to us is not an easy task and it can become more of a challenge when we try to then align ourselves with an employer that fits our self-perception and matches our values. In the long term however, this values aligned approach can lead to greater clarity and a sense of fulfilment.
Hybrid disruption
Some people thrive in a fast-paced office environment with clearly marked start and finish times, while others prefer working in solitude at a pace that is suitably flexible to their needs. How well your organization manages the balance between rigid structure and flexibility will define how well it bounces back from the disruption of the pandemic.
According to Microsoft, 73% of employees want flexible remote work options to stay, but this is contrasted with 67% who also want more in-person office work/collaborations. This study highlights what we are all becoming aware of; Hybrid work is here to stay. But care needs to be taken not to make this a binary conversation about working in the office and working from home. The place of work is just one dimension, and the real question is "How can leaders enable employees to be as productive as possible, individually, and collectively, in delivering the organization's values, purpose and business objectives?"
Flexibility will be the key to navigating this new normal. Changing from a micromanaged office environment to a hybrid one is going to take some getting used to. But it also presents an opportunity to dial your values, and to practise trust with your employees. If your purpose as an organization has been clearly communicated, and your values are lived, it becomes easier to trust your employees to make decisions aligned with that ethos.
Inclusivity
Inclusivity is not about micro managing, it's about well-being, ensuring that all colleagues, whether working from the office or remotely, know they can count on the support they need when they need it. Are you making sure that remote workers are still offered a (video) seat at the table, to keep them represented and involved. How will you protect office colleagues from bearing an unfair amount of the workload purely due to their proximity or ease of access.
It will be trial and error, and a strong set of working values will help align everyone with new working practices and minimise the risk of an 'us verse them' culture developing.
Lastly, don't panic, people had similar reservations and fears when adapting to the increase of a night team/working culture, but over time that has become a key part of our infrastructure, as Hybrid arrangements are becoming now.
SERVICEBRAND
The impact of COVID-19 has demonstrated how we are much less restrained by location and traditional working hours than we previously thought. It has helped us see how we can build fit for purpose work environments in our living rooms and offices, to maintain our organisations in a time of severe uncertainty.
Having everyone in the same room doesn't automatically mean they are connected; the connection comes from a sense of shared values. These values support employee security, wellbeing, confidence, and resilience, while also driving performance to achieve the organization's purpose and objectives. To see how the SERVICEBRAND approach might help you build values-based connections in your hybrid workforce, please get in touch.