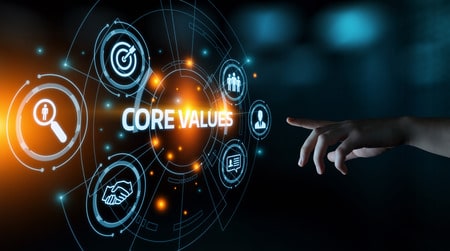 Developing values
So many people have stated that the last eighteen months have caused them to reassess what is important in their lives, or in other words their values. When you consider that 33% of people feel their work and personal values don't align, it's no wonder that it is a challenge to develop and implement corporate values and grow a healthy values driven culture.
How often have you found yourself asking someone why they do the work they do, only to be told, for the money?
The word values is now so commonplace that sometimes the meaning is forgotten. Core values are traits or qualities that represent deeply held beliefs. They reflect what is important to us, and what motivates us. For an organization, values define what it stands for and how it is seen and experienced by all stakeholders (customers, employees, service partners, suppliers, and communities).
Values act as guiding principles –as a behavioural and decision-making compass. In an organization, values (explicit or implicit) guide every person every day. They are the foundation for the way things work, providing the basis of the corporate culture. For individuals, as well as organizations, values sit at the gateway between our inner and outer worlds. They describe what is fundamentally important and meaningful to us and relate directly to our sense of purpose and to our needs as individuals to survive and thrive.
Understanding different types of values
Values are a vast a complex subject matter. It will never be as simple as saying "we believe in compassion" because different people might have a different idea of what compassion means and looks like, based on their own experiences.
So, when starting to examine what your organisational values might be, you might first wish to consider what the core essence of the organisation is and what makes you different. This will help you get to the heart of who you are, what truly matters, and how to go about living it, in an authentic way.
If you set values with only colleagues in mind, they won't represent your business, customers, or service users. The same is true when creating values based purely on your perceived notions of what the customer wants.
Understanding values isn't about putting some words up on a wall. It is about honest identification of your organisations purpose and the style in which this will be achieved, being consistent to different stakeholder groups.
Disconnect between what is and what should be
Creating values driven organisational culture is complicated – if it wasn't, everyone would be doing it. It is alright to ask for a little help, when coming to new and different ways of doing something. But if you are here, it is because your ideal culture isn't aligning with the reality of how things actually are.
Understanding and engagement is key, and what is hard to tell is easy to teach. How many times have you attended a meeting or huddle where the boss has espoused a new plan or set of values that are now who we are. No feedback, no involvement or recognition. Just this is it. Live it.
If you are familiar with this scenario, you'll know enforcing values seldom works. The weight of having to internalise a whole new set of values in order to be considered competent, can often lead to far more misunderstandings and frustration.
Imagine being told one of our new values is 'open and authentic communication' only to be ignored or to live in fear of actually reporting things to higher management. For the longest time, fear, power, and respect have been used as motivational tools to enforce workplace productivity. But they have a critical failing. If the people working for you don't feel able to communicate honestly about the issues they are having on the ground, you will always be working with the wrong information. This builds further resentment and frustration from the top down, because in appearances everything is fine. But the numbers don't lie.
It is far easier to live values by example than by dictation. If you value open communication, all you have to do is communicate openly, and this will teach those around you how to do so as well. (Prepare yourself, thicken your skin and remember "critique of your management style is not a personal attack".)
Putting values at the centre of everything an organization does is the starting point to create a strong and authentic brand. This is particularly relevant for service organisations where people are a core element of their proposition. But the focus on values needs to be sincere and authentic rather than a lip service PR campaign and, remember to lead by example.
Weaving real commitments into lived values
To create an impact, core values need to extend into the day-to-day fabric of the organization and be a reference for decisions and behaviours at all levels, influencing people daily.
"Values are for living not laminating."
Those in different places in an organization see evidence of culture and values differently. For example, those at the top, rate tangible KPIs (key performance indictors) as demonstrative of organizational culture (e.g. financial performance, competitive compensation); those lower down rate their personal experience as important evidence of 'values' (e.g. open communication, employee recognition, access to leaders). Both are important forms of evidence that should be considered when developing and implementing any change in workplace culture.
Rules vs Values
Once you have established a set of values, they should represent you, informing all who come into contact with your organisation, what you are about. Hiring, promotion and dismissals should all be aligned with your values too. Get the right people in the right places and watch your organisation transform!
Values play a much more effective roll in workplace culture than rules do. It is impossible to always monitor everyone at your organisation, not to mention uncomfortable and toxic to have the need to have to do so.
When all your practises are aligned, you don't have to worry as much about enforcing rules, because you'll know who you are and have values driven processes in place to hire people that fit your organization, and thrive on your encouragement, rather than suffer under your thumb.
SERVICEBRAND
Why not connect with us here at SERVICEBRAND to see how we might help you identify you values and cultivate a plan to help shift organisational culture towards a values-based system that will increase the wellbeing of everyone at each point of service.