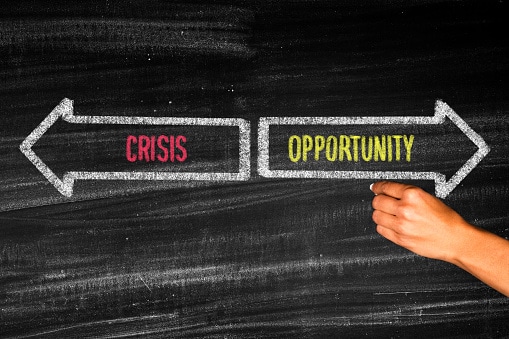 The Covid-19 pandemic, while bringing with it immense suffering, has also brought the opportunity to re-examine and re-evaluate our values and beliefs. It has let us bear witness to those companies and corporations that have shown a reaffirmation of their values, and also those that have shown a complete disregard for their espoused values in the way they have treated their employees and customers during the pandemic.
Examples like amazon sellers price gouging on PPE, and companies profiteering on other medical supplies, furloughing and/or laying off staff while still paying enormous bonuses to senior executives and capitalising on the lockdowns to force smaller companies out of business.
But there have also been positive examples such as businesses re-tasking their products and services to help their employees retain employment and their customers continue to access the goods and services they need in times of limitation and restriction.
Global health pandemics aren't the only type of crisis that can dramatically affect a business. But a crisis of this scale gives a much wider view of the cultural and moral landscape our societies are built on.
Finding value
Understanding and assigning values to your business can be a difficult process. It requires a great deal of reflection about who you are, what you are offering and most importantly why you want to sell that product or offer that service in the first place.
We become who we are (consciously or not) through what we care about. We only need the space and safety to follow our values and we can create lives and companies that are successful because of how well others can relate to our message.
Our values set the tone for everything to come. They act as a frame of reference in our decision-making structures. They cast a spotlight on our individual and collective behaviours, engaging and directing us to better align with the kind of businesses we want to support and the people we want to be.
But the most important aspect of defining and operating in a specific set of values, is that they are consistent. In this way the reputation and heritage of the company can begin to grow, this builds trust with the consumer base, and other stakeholders letting them feel secure in where they have placed their purchasing power or other type of relationship.
Authenticity in a crisis
Whether facing a crisis or not 86% of customers are driven by a desire for authentic interactions with the businesses and services they engage with, especially when those offerings demonstrate core values that closely align with those of the customers.
Those companies that have been upfront and authentic in their handling of the pandemic are the ones that have retained and seen the most support from their customer base. We hope that this is a sign that honesty really is the best policy, even during uncertain times.
Both individuals and organisations share common needs for safety and security, and while the go to may be to project an image of strength during a crisis, it is far more impactful and better for business to be up front about what is happening, being open about uncertainty with customers will build stronger bonds and connections through shared experience.
Repositioning
The companies that have been more able to the pandemic comfortably have done so because of their ability to be agile and flexible without compromising on their values. Companies like 58 Gin, that rapidly switched from producing gin, to the distillation and creation of hand sanitizer.
Maintaining operation, ensuring that employees still had work and the business remained profitable all came because of having strong core values, but being flexible enough to express them in different ways.
Repositioning a brand is often necessary as the times change and we head into an ever more uncertain future. Don't fear having to make changes that are necessary for the survival of the business. Just ensure those changes don't come at the expense of your values or authenticity. Consumer trust is hard to build and near impossible to regain once broken.
SERVICEBRAND
Whether its help choosing core values or assistance in implementing them, SERVICEBRAND GLOBAL can help you navigate the crises facing your business, shape your brand identity and align you authentically with your consumer base.
Companies that will successfully navigate any crisis are those with a strong and consistent set of core values, that have a purpose beyond profit.