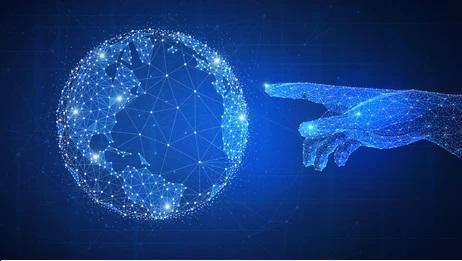 The fourth revolution
Over the coming weeks, this blog will explore the relevance and importance of organizational alignment against the landscape of the new paradigm we refer to as the Values Economy. Starting us off this week is the fourth revolution and its potential impacts in an evermore and ever rapidly advancing techno-society.
4IR
The Fourth Industrial Revolution (4IR) is the banner name covering advances being made in areas like artificial intelligence, augmented reality, biogenetic engineering, and the internet, to name a few. More simply put, 4IR covers the way in which our world is moving from a purely physically industrial planet to one in which the lines between digital, biological, and physical technologies are overlapped.
Data is king
With the advent of social media, businesses and organizations found a main line directly to their customers consciousness. Now all our decisions are tracked across the internet, every time we search for something on Google, like a photo or make a comment, that data is collected and fed into algorithms that in turn offer more targeted ads, based on what we like to see and our predictability of making a purchasing.
The amount of data being collected is enormous, even in some instances the time to the micro-second we spend paused on an ad or picture while scrolling, and factors into what we are likely to be shown next.
Individual alignment
At one level, this might be of great benefit for advertisers and data gatherers, and even for the general public in terms of accessibility to desired content. However, the conversation might be different if we begin to centre it around the concept of values. It has never been easier for organisations to reach us with their messages, but to what extent does their influence apply to the things we believe in and value?
There is proven power in brand alignment. When we feel aligned with an organization's values, we are more likely to spend with them, talk about them and remain loyal to their brand. But are we aligned to the authentic reality of that brand image? Or merely to a carefully tailored presentation that targets us cleverly and, perhaps, individually.
Do you see your favourite brands in the same way as somebody else and is it possible that you falsely assume that the same picture is being shown to everybody in a consistent way when it might not be?
Putting Data to Use
Use of data isn't always an insidious erosion of our personal freedom. Often, people accept the data being gathered as the price they pay for better and more intuitive services. They trust and feel aligned to that organization's purpose. Businesses like Netflix for example, spend millions on data collection and algorithm generation, to offer better content choices to their customers.
This kind of personalisation means almost everyone is individually seeing the kind of content they are likely to watch without having to do a lot of scrolling and searching for it.
Developing features like 'continue watching' also help develop customer experience by making us feel more in control of the platform, and thus able to drop in and out at our leisure; if it makes us feel good, we are far more likely to do it. It serves Netflix too, in the billions of dollars in savings they achieve through retaining loyal customers. For some of Netflix's competitors. where content is not as accessible and intuitive, this is a serious disadvantage.
Customer Alignment and Trust
As more people become aware of the volume of data being collected about them, they begin to feel more uncertain about whether or not their trust has been put in the right places. With 83% of people believing that trust is the cornerstone of the digital economy.
'Hard to build, easy to break.' This phrase sums up the experience of building trust in any business or organisation. They need to be able to prove that they have the customer's best interest at heart; that the data they are collecting is only used to tailor customer experience for the benefit of the customer, not for the organization to profiteer on.
People feel aligned with Netflix because they get offered the content they desire and are reassured their money is going back into creating the kind of content they want to see more of. This 'trust us and we'll keep giving you want you want' business model has served Netflix well.
The case cannot be made the same for other organisations that make no attempt to align with their customers beliefs and values, instead choosing to push content and products on them that they don't want or need. Or worse still use the technology to alter public opinion.
Focus
4IR is changing the world, the way we live, work, and express ourselves is shifting, as the line between reality and the online space blurs. Organizations that navigate this frontier successfully will be those that move and grow with a clear sense of shared values. Values practically applied to align with consumer and service user needs in a positive way, focusing on them as people and not as profit.
There are repercussions for developing the appropriate leadership skills and education and training systems in a world where skillset will become an increasingly transient commodity. There is also a shift from traditional organizations with fixed structures to ecosystems which are networks of organizations involved in the delivery of a specific product or service. Unexpected alliances are forged, sector boundaries blur, and long-standing strengths count for less.
SERVICEBRAND
This is where the SERVICEBRAND approach can create significant value because, irrespective of the various stakeholders, the focus remains: delivering a brand aligned customer experience through one team of brand ambassadors, supported by effective and robust systems and processes, and measurement and insight. The framework helps to keep technological advancement 'in check' and viewed as a support tool rather than one that takes on a life of its own.