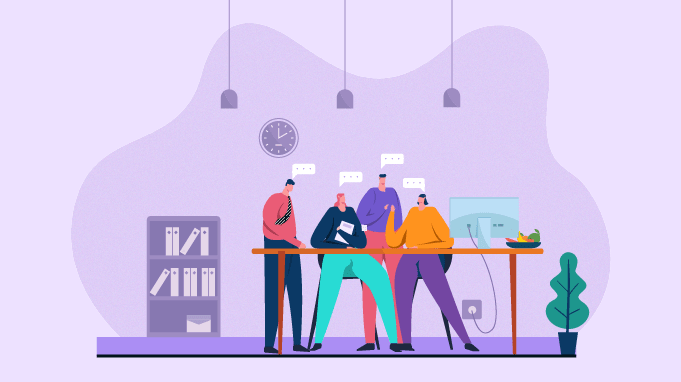 Building customer experience (CX) can be a real challenge, it requires a great deal of data, understanding and the right application of insights about your customers' desired outcomes. Not only this, but also how to create the kind of experience that leads customers to a better perception of your offering that they may not have had before.
"You have to start with the customer experience and work backwards to the technology" Steve Jobs
Experience-led design is not new, and most people will have experienced and benefitted from this approach using any Apple product, hence the Steve Jobs quote above. However, in commercial real estate, the 'customer experience' is often designed and delivered subsequently within the confines of the physical design.
There are clear and obvious disadvantages with this: imagine a new office with a beautifully designed reception desk but where there is a desire to reinforce personal service and a hosting style reception service with no barriers. The best results and least waste can only be achieved by designing the workplace customer experience first and then using this to inform the design of the built environment.
In practical terms, the first step is to create a strategic vision brief, articulating the purpose of the project, the values and brand concept and a high-level customer journey experience, covering all senses and the aspiration for how 'customers' will feel, what they will know and do. The built design and service delivery model can then flow from this starting point.
Well-being
Another dimension of customer experience in a workplace environment is the topic of well-being which has gained traction in the last 5 years or so – organizations are increasingly investing time and energy in this area. The well-being topic is wide ranging and covers a spectrum of topics from physical wellbeing (diet, hydration, exercise, sleep), an array of mental health issues, spiritual well-being (prayer facilities), employment factors (adequate pay and working hours), environmental factors (office design, ergonomics, biophilia, air quality, temperature, light and sound), social wellbeing (interaction and collaboration with colleagues), and even the benefit of an adrenalin rush.
Facilities management plays a key role because the function delivers so many of these wellbeing related services and facilities. The BCO's 2018 research report, Wellness Matters, states that employee wellbeing is intricately linked to employee productivity and is boosted by spacious, naturally lit offices with good air quality and amenities.
Built environment
The scope of the physical design can also be extended to how different styles of workspaces can support different types of work (e.g. confidential calls, deep concentration, collaboration, creative thinking etc) and the importance of areas to take a break.
Some workspaces are designed deliberately to create specific traffic flows or impromptu 'meetings'. I remember an office I visited in Johannesburg where the CEO had escalators installed as a central feature – wanting to avoid the silence he had witnessed between groups of employees when they used the elevators. There has been an increasing interest in biophilic office design: bringing the outdoors into the workplace and results in improved productivity, increased concentration levels, greater creativity, enhanced wellbeing, reduced absenteeism, increased productivity, and improved employee retention.
The cost versus investment perspective is well demonstrated by looking at the decision about whether to provide catering and/or kitchen space in an office. From a pure cost perspective, this is often a large area of expensive real estate, especially if the space is only fully used at lunch time. On the other hand, the space can be a highly effective vehicle for organizational communications, a potential area for collaboration and informal networking, a way to provide healthy food for employees and is convenient, avoiding any need for people to leave the building. As we are now learning, employees that have time to make and build friendships at work are far more productive than those that don't.
We also know companies who do not have catering space because they have made a strategic decision to support the local business community. You can see that what might seem to be a simple decision at face value can involve a complex set of considerations and COVID-19 has added a whole new dimension with the office versus work from home (or elsewhere) dynamic.
Style
The final layer is the style of service delivery. The combination of the style of service, range of services and built environment are a strong message to employees and visitors about what is important to the organization, and we recommend to clients that the area of corporate real estate services is given sufficient focus and attention.
Research shows that workplaces that have been designed in tune with employee sentiment deliver a significant upswing in pride. There is a commonly held belief that people who experience a certain level of admiration derived from the efforts and achievements of their employer are more likely to become brand ambassadors for the company in question, and this can only go on to have a positive impact on a customer's experience.
The new 'workplace'
This area has taken on a whole new dimension now that the scope of 'workplace' has been extended by the impact of the COVID-19 pandemic. There are two fundamental developments:
1) For many office workers, the office is no longer the de facto place of work. The organization leaders in workplace need to consider how employees can be equipped to be as productive and fulfilled as possible, individually and collectively.
2) Because there is a viable, and often desirable alternative to the office, the organization leaders in workplace have a challenge to make the office a place that employees want to come to work … with experience-led workplace design.
SERVICEBRAND
At SERVICEBRAND Global, we believe in experience-led workplace design. Twenty years ago, I moved from the commercial hospitality sector (five-star hotels, conference centres and restaurants) and used this experience to implement experience-led workplace design with an award-winning One Team supply chain approach. If you are looking to improve the design and service delivery in your organization's workplace to attract and retain talent and maximise productivity and fulfilment, let's explore how SERVICEBRAND Global can help.
This blog is based on Chapter 19, Workplace from The Values Economy