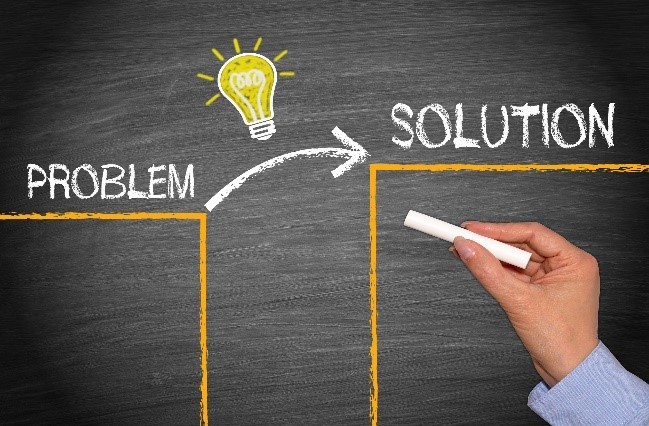 An enormous number of customer interactions are related purely to the resolution of an issue the customer has with your organization. How well you make yourself available to your customers, and how well you can resolve the problems defines how much trust and loyalty those customers are likely to place in your organization. Ultimately, it can make the difference between retaining and losing a customer.
Complex answers to simple problems
Customers often contact your organization to seek solutions, find out information, query something they don't understand, or challenge an issue they have had in the use, purchase, or access of your service. Automated phone services and online chat bots are a useful application of technology. But the focus needs to be on enhancing the customer experience, not cutting costs.
Having AI assisted customer service can be efficient and effective. This happens when it is fully able to understand and resolve queries and complaints. On the other hand, giving general and unhelpful feedback frustrates customers as much, if not more, as waiting on hold to speak in person to an agent.
Remember that you do not define your customers' expectations. Over the last decade, there has been an increase in convenience (Amazon leading the way), use of mobile transactions and direct-to-consumer delivery models. As a result, customers' expectations have risen. They compare your speed of delivery or response to Amazon, your mobile interface with Uber and your delivery model with Apostrophe.
Balancing customer experience
On average, customers and service users will tell between 9 and 14 people about a positive experience they have had with an organization. They will tell between 15 and 21 people when they have had a negative customer experience. When this is multiplied across every customer suffering the same issues it can rapidly and dramatically affect the profitability and reputation of the organization.
While it is the dream of every organization to have perfect relationships with their customers, this isn't realistic. You can, however, balance the needs of customers against the potential weight of their negative criticism. This is where AI can come into its own in providing you with the insight so that you can make conscious choices about how individual customers are managed.
By filtering complaints as quickly as possible (probably to a human being), you dramatically offset the likelihood of that customer being a brand detractor and speaking ill of your organization.
Refining your strategies
When you build a strategy centred around resolving customer complaints, firstly on an individual level, then on an organizational one, you dramatically reduce the likelihood of repeated customer complaints about the same problem.
This requires a counter intuitive mindset and healthy communication within the organization. Issues and complaints from customers can be welcomed if you treat them as an opportunity to improve your business. The customer's problem is your organization's problem and with detailed feedback you can identify and correct the issue.
Marriott used a problem resolution model attributed to Walt Disney which considers two elements: first the impact on the guest and secondly the degree of responsibility of the hotel.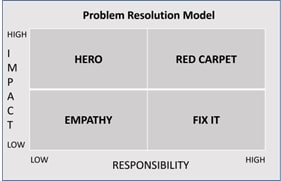 By way of examples:
1) There is a rain shower as a guest is accompanied to their car. Low impact, low responsibility – EMPATHY: "I hope you will dry off quickly and have a safe drive home".
2) A guest goes to their room and a light bulb is out. Low impact, high responsibility – FIX IT: "Thank you for letting us know and apologies. I will see that it is replaced immediately. When is the best time for you?"
3) Wine is spilt on a guest's jacket. High impact, high responsibility – RED CARPET: "I am so sorry. The Housekeeper can deal with this now or, if you prefer to keep your jacket, please have it dry cleaned and send me the receipt so you can be reimbursed."
4) A guest has travelled to the airport and left their passport in the room. High impact, low responsibility – HERO: "Yes, we found the passport in your room and my colleague is on the way to the airport now. We have checked traffic information and flight times and you will be in time for your flight. Let me confirm your mobile number so he can contact you when he arrives."
SERVICEBRAND
At SERVICEBRAND GLOBAL, we believe in refining the customer experience by removing as much friction as possible. We can help you to develop strategies that will dramatically improve the overall customer experience and reduce the number of complaints you are receiving, by taking an organization wide approach. Why not see how we might help you win more new customers, retain existing customers and convert customers into brand ambassadors.