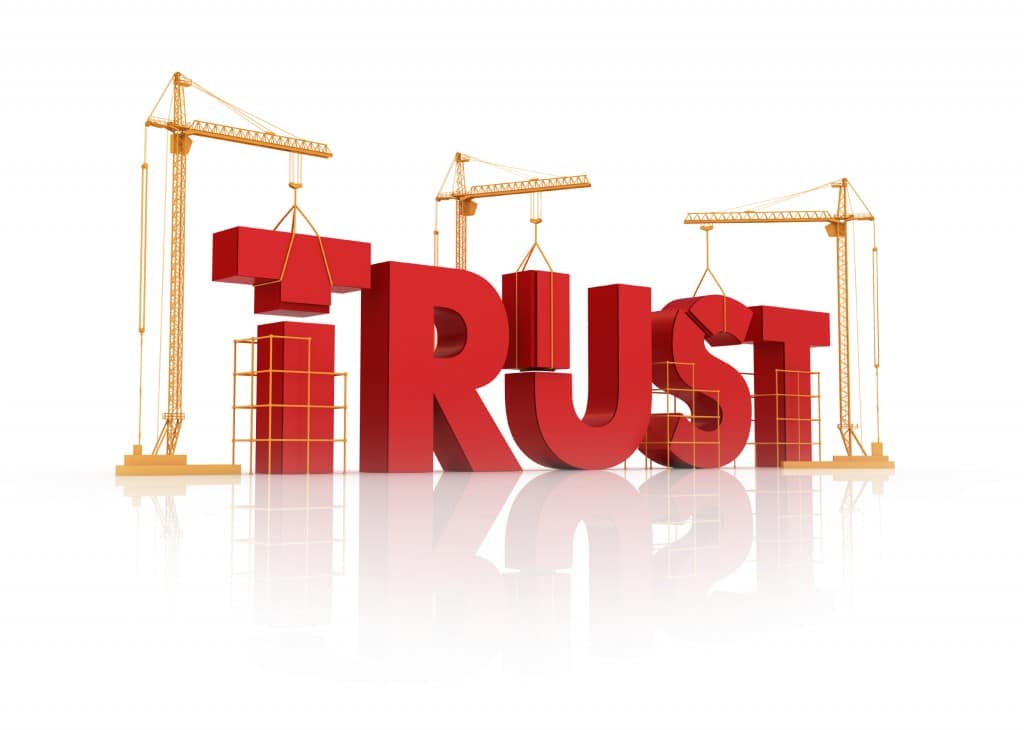 Building customer loyalty requires trust. On the surface this sounds simple and the anonymous quote "Trust takes years to build, seconds to break, and forever to repair" reinforces this one-dimensional approach. Here, we will explore why trust is important but more complex than is often portrayed.
The power of the customer
While the act of selling a product or service has become intensely personal, the reputation of your organization is still a collectively understood entity. The impact of how you treat and respect your customers is not limited to their own purchasing behaviour. It can also spread to existing and potential new customers via reviews and word of mouth. The internet and social media have turned up the volume regarding communication. We can now share our feelings and comments with millions of people all over the world in a heartbeat.
Developing a trusting relationship with your customers and service users is made even more difficult by the ever-changing nature of the customer market. Mass-marketing started in the 1980's, where organizations hired advertisers to convince the consumer of their needs and desires. This has been replaced to a certain extent with more tailored, individual, and personalised customer experiences.
So how do you get customers to trust you, when by their very nature, they all have different ideals and expectations of the services they seek?
Putting the customer first
Over 75% of customers and service users expect a personal service when engaging with any brand or organization, not only during their first interaction, but in all subsequent ones. Using outsourced, cheap AI, or call centres, shows a lack of desire to create a customer first, service driven business.
More money is lost every year through 'money saving' schemes and cost-cut outsourcing than would be lost over the lifetime of an organization that focused on building lifelong loyalty from fewer, but trusted customers. You might gain substantial profits in the short term, but these businesses rarely have real long-term viability.
Hiring employees that are customer focused and customer friendly is key. Yes, every customer might have different desires. Well trained and adaptable customer facing employees can create a bond with each individual customer.
If customers and service users can't get in touch with your organization, can't log or register complaints, or can't get their queries resolved easily, don't be fooled by the silence. These customers might never use your service again, they might become negative ambassadors, actively talking down your business to everyone they meet.
Take care with your data collection strategy. What message are you sending if, for example, you don't give customers the ability to customize the data you collect from them, or the ability to decide which tracking cookies can follow them around the internet after using your service? It might appear that your ability to mine personal information is more important to you than the customers' awareness, choice and privacy. If, on the other hand, you are open and provide clear choices, and behave appropriately with the information, the customer will begin to develop a trusting bond with you.
The customer is always right
This is not in the sense that you should always do everything your customers demand. However, 9 in 10 people trust what other customers say about an organization, more than what the organization says about itself. Customers are therefore potential brand ambassadors… as well as potential brand destroyers.
This is why it is so important to collect customer and service user feedback and be transparent with this information. Your customers can trust you have nothing to hide.
The good and bad, reflect the true experience each customer has had with your organization. In some cases, it might have been a one-off, in others it might indicate a further ingrained systemic issues that needs to be trained out.
Either way, by championing transparency, customers are more likely to trust you. Especially if they have had a really positive experience despite a few negative reviews, it will communicate that you actively listen, address, and resolve those issues for future customers.
Some businesses are tempted to manufacture or 'manage' the feedback, but, once again, the truth will get out, probably faster than you thought possible, and where will that leave your customers' levels of trust?
The wrinkle
We believe that the impact of time on trust is overstated. Instead, the key driver is the quality of trust gained and trust lost.
Also, reputation and trust are often confused. Having a "good reputation" doesn't say much about trust. For most of us, 'trusting' a company just means we like their products, or 'trust' them not to violate laws. That's a pretty low bar.
When an organization becomes involved in a scandal, we lose trust in those companies quickly – not because trust loss is quick, but because there wasn't much trust there to begin with. Take a very personal example of a long-term trusted friend who doesn't show up for a meeting as planned. Depending on their level of responsibility and the impact on you, you might choose to brush it off or you might treat the matter more seriously. The key point here is that whether loss of trust happens quickly or slowly is a function of how much trust we had, the impact of the violation and where the responsibility lay: it is not a function of the calendar.
SERVICEBRAND
Building customer trust is not easy. If it was, everybody would be doing it much better. At SERVICEBRAND GLOBAL, we can help you understand a true and honest picture of the state of your organization. Let us help you get connected to the heart of your business. A little trust goes a long way, why not see what we can do for you.