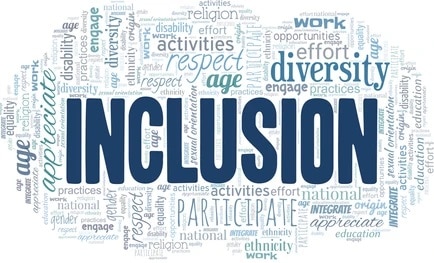 In this next blog exploring alignment in the landscape of the Values Economy, we'll be looking at how inclusion can boost organizational alignment and consumer engagement by putting people first and empowering them through representation.
Inclusion
Being an inclusive organization provides significant benefits, from gaining a competitive edge by hiring from diverse pools of talent, to attracting a wider audience and consumer base from different communities.
We use the term Inclusion rather than 'diversity' because we believe that just having diverse people is not enough. Diversity and inclusion are not synonymous and, to be worthwhile, the two must go hand in hand. This means that while organizations can work hard to hire people from different backgrounds at all levels, it is all meaningless tokenism unless these people's voices are heard.
Time and time again, research into the benefits of inclusive organisation has shown a positive result across the board.
· Inclusive teams make better business decisions up to 87% of the time
· Teams that follow an inclusive process make decisions twice as fast with half the meetings
· Decisions made and executed by diverse teams delivered 60% better results
More diverse companies are better able to attract top talent, improve their customer orientation, employee satisfaction, and decision making. This is likely to become even more important in the future as demand will grow for skills such as analytical thinking, innovation, active learning, creativity, collaboration and complex problem-solving, while rote skills and easily repeatable tasks will be shunted off to automation.
Inclusivity can be a challenging area, if your organization has only focused its attention in one direction for a long time, the changes necessary to include others can and often do challenge the most toxic parts of organizational culture. Marginalised peoples and communities have long been the subject of water cooler talk, an exercise in bonding as the butt of a joke.
Why inclusion matters
"Our ability to reach unity in diversity will be the perfect present for the test of our civilization." M K Gandhi
Values-driven inclusion is so important because the effort will not succeed if people in the minority don't feel safe to be themselves. It is estimated that over 50% of people who identify as LGBTQ remain in the closet or diminish their true selves to fit in better at work, to avoid being the subject of rumours, gossip, and workplace bullying.
Several HR and D&I leaders struggle, to the point of paralysis, to have a conversation about race at work. Sometimes they either do not know where to start or are unable to convince their leaders of why this is so important. Other areas of diversity and inclusion such as age, disability and social class seem to receive less attention and others such as neurodiversity are receiving long overdue recognition due to increased levels of knowledge, understanding and awareness.
Inclusion encourages a wider perspective across all stakeholder groups (customers, employees, service partners, local communities etc) to consider the benefits for individuals, organizations, and wider society beyond the traditional business performance metrics.
As mentioned in the previous blog on the Fourth Revolution, data collection and management processes can play a powerful role in equipping organisations with the right information to understand, support and include everyone from the ground up.
Aligning values with inclusion
A recurring theme we have noticed is a tendency for diversity and inclusion initiatives to stand alone or exist in isolation and not reflect the organization's purpose, values, and priorities. Including people is not a gimmick or marketing tool, to create inclusive rhetoric, when the organisation does not build and live practises designed to support consumers, service users and employees, and will always result in the minority being further marginalised, while empowering the majority to retain toxic workplace cultures that promote exclusion and division. This not only has a social impact but a definite financial one.
Bringing your values into alignment with inclusive practices requires patience, mutual awareness and understanding. It is not a race to collect the most tokens, but instead it is a sincere effort to recognise the unique humanity of everyone that will engage with your organization.
Avoid box ticking, while acronyms for protected characteristics like BAME and LGBTQ, are important and necessary, intersectionality is far more individual and complex. Asking someone to speak for their entire ethnicity, gender, disability, or sexual identity is reductive and limiting. When you align your organization with the values you truly represent, it will build an atmosphere of inclusion, one where everyone that uses your service will be aware of being valued for their unique humanity, not begrudgingly served because they have to be.
SERVICEBRAND
The SERVICEBRAND approach can help you to align your values with inclusive practises that allow everyone to feel respected and treated fairly. We believe in a holistic and individual approach to build employee engagement initiatives that go beyond the stand alone, unconnected one day seminars telling people what to do, rather than showing them the benefits of full and proper inclusion.