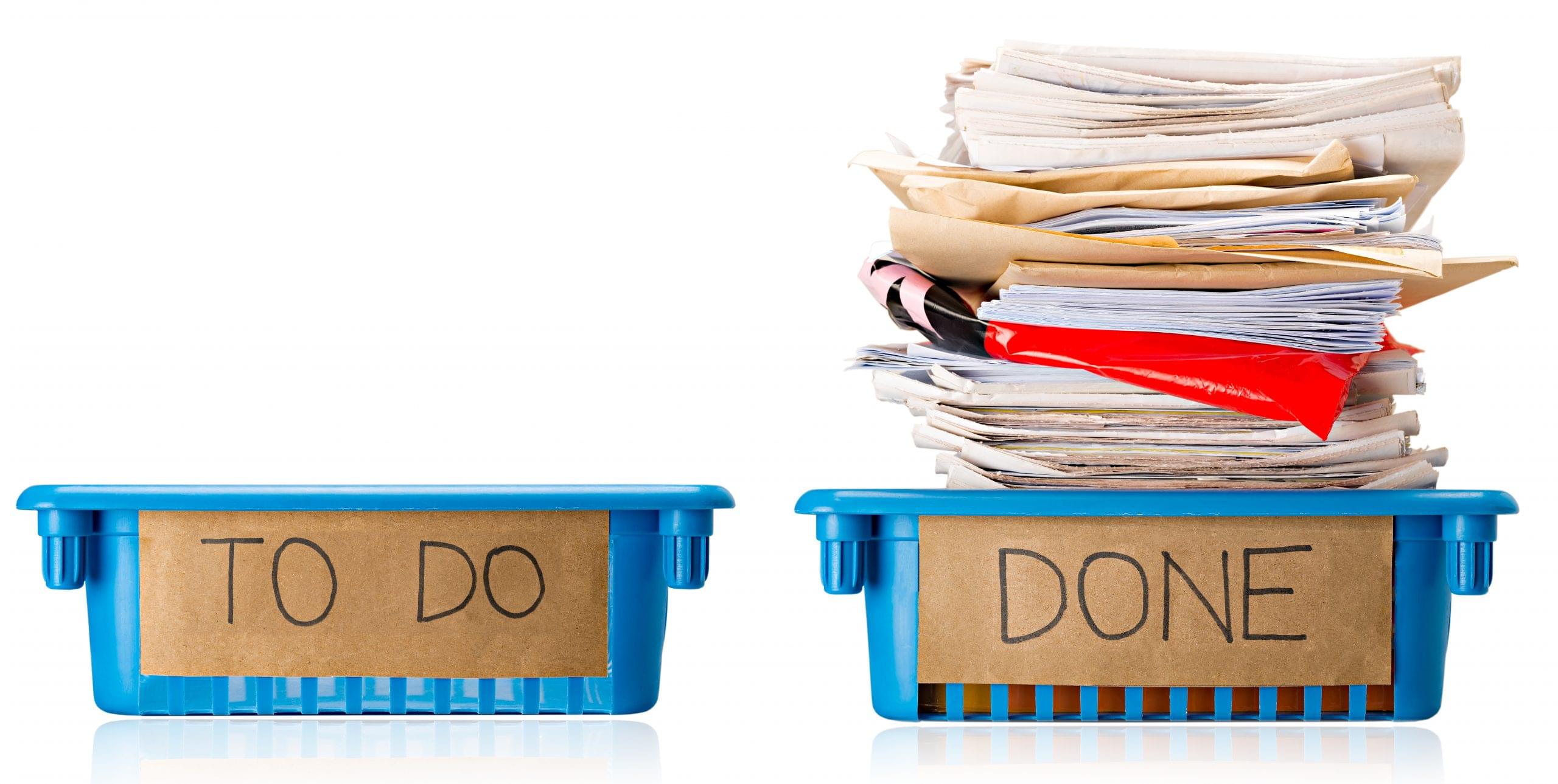 Organizations and the leaders that run them expect a certain a level of productivity from their employees. The choices of competition are endless, and the smallest issues can break brand loyalty. In this high-demand and on-demand society, it is no surprise employees are driven to be as productive as possible.
But knowing you need to achieve certain levels of productivity, and actually putting in place effective workload strategies to make the right output possible, are very different things. Your organizations biggest assets are its employees. They are the people who create your products and services, who face the customers and build brand awareness and loyalty with them. If your employees are burned out or disengaged from unmanageable productivity deadlines and workload beyond their capacity to cope, your business is in danger.
Setting your priorities
On average 80% of the average workday is spent doing tasks with little or no value, with the remaining 20% bearing the weight of all the important value adding tasks. Statistics like these don't mean your employees are lazy, they mean there is a lack of focus within organizations as to what their priorities should be.
Your workplace should be an encouraging and engaging one. Encourage your employees to review all the tasks they undertake and have them report back to you with complete honest about what 'feels' useful and productive, and what feels like a box ticking exercise or a waste of time doing something that could potential be spent better elsewhere.
'Oh, but they won't be honest because they like wasting time.' There are three big problems with statements like these. The first is that the majority of employees want to be working while they are at work, time runs slower when avoiding tasks than it does when fully in the flow of a creative and engaging workplace.
The second is wrong thinking on the part of the leader. If you think this way about any of your employees, you need to address your hiring, training, and monitoring practices. There should be no one in your organisation that doesn't want to be there. And the third issue, if you have people being paid to do random or pointless tasks, you need to get honest about it and either redevelop their remit, find another place for them, or let them go.
Keeping track of time
Never have a meeting when an email would do. Of course, it is important to meet with employees regularly. But too much oversight kills creativity, wastes time, and makes employees feel like their time is no valuable if it can be so easily wasted.
Your organization is likely to have set deadlines and dates for deliverables. Time tracking and scheduling software is your best friend. But not when it becomes more important to get things done to the timetable that are only achievable by cutting corners or burning out.
Your time tracking should be a supporting tool that provides guidance and assistance to workers, it should not become their all-powerful overlord. Let your employees see your goals, your plans, and the schedule in which you hope to achieve them and give them voice as to what is suitable and achievable. Let go of a 'if I give an inch, they'll take a mile' mentality, and trust that the people you have hired and rigorously trained, want to be there, and want to help you succeed.
Run before you can walk
This may seem counter intuitive, but it is always better to attack the difficult tasks first. By prioritising the most complex deliverables first, you allow more time to fix any issues that arise later on. People are often better mentally and physically in the morning than later on in the day. Set the hard work, the difficult tasks in the morning and let the afternoon or late part of the shift be dedicated to the more monotonous and repetitive work. In this way you'll establish a relationship with your employees that shows you care about balancing their productivity with their workload.
A best practice SERVICEBRAND
Nordstrom, Inc. is an American luxury department store chain founded in 1901 by John W. Nordstrom and Carl F. Wallin. It originated as a shoe store and evolved into a full-line retailer with departments for clothing, footwear, handbags, jewellery, accessories, cosmetics, and fragrances. Some stores feature home furnishings and wedding departments, and several have in-house cafes, restaurants, and espresso bars.
As of 2020, Nordstrom operates 354 stores, including 100 full-line stores, in 40 U.S. states and four Canadian provinces. The corporate headquarters and flagship store are in the former Frederick & Nelson department store building in Seattle, Washington; a second flagship store is located near Columbus Circle in New York City. Its subsidiaries include the 247-store off-price Nordstrom Rack division, two clearance stores, five Nordstrom Local service hubs and the members-only online store HauteLook. There is also a comprehensive online service across the portfolio.
In August 2020, Nordstrom employed 68,000 people (full time and part time employees). In 2019, the company had a $15.86 billion revenue in the year and profit of $564 million. They hosted 800 million online visitors annually and 35 million instore customers.
Somebody who possibly knows Nordstrom nearly as well as the Nordstrom family is Robert Spector, the author of "The Nordstrom Way" book series, who has interviewed three generations of the Nordstrom family, and is an international keynote speaker on the Nordstrom culture of service. We invited Robert to collaborate with us for this mini case study and have been fortunate enough to receive his insight into the company for this chapter.
This quote from Robert sums it up well:
People often ask me: "What is the essence of The Nordstrom Way?"
My answer: "Everything Nordstrom does is centred around taking care of the customer and giving
them value that will last a lifetime. Whatever channel Nordstrom uses, the personal touch of customer service has to be a part of it." They nod in understanding, then follow up with, "And?"
To which I reply. "That's it."
In this blog, I would like to share some brief insights into the way Nordstrom works using the SERRVICEBRAND framework of Brand Identity, Employee Engagement, Customer Experience, Systems & Processes and Measurement & Insight:
Brand Identity
Delivering a great customer experience is at the heart of the Nordstrom business model. The company's mission is "To continue our dedication to providing a unique range of products, exceptional customer service, and great experiences." When asked about the company and its goals, Erik B. Nordstrom, President, and CEO, stated "Above all, our number-one goal remains focused on improving service for customers so that people feel even better about the time they spend with us." In summary, customer experience is the brand.
Values are also of paramount importance. "We grew up being taught to respect all our customers and to the extent that they have different opinions, that means we can't have an opinion on anything that's personal or political," said Pete. " We were always Switzerland [neutral]. We would never offer an opinion. But today, you have to stand up for something. We can't have a personal connection with customers and employees if we don't have an authentic set of core beliefs and values."
This approach has resonated internally within its company culture and, externally, with its loyal customer base and is a great example of the SERVICEBRAND approach being applied in practice: alignment of brand identity, employee engagement and customer experience.
Employee engagement
The goal is to first attract, and then retain people who share and abide by the Nordstrom values because it is understood that only those kinds of people will be happy working for the company. As Bruce Nordstrom says, "We can hire nice people and teach them to sell, but we can't hire salespeople and teach them to be nice. We believe in the philosophy of 'hire the smile, train the skill.'" And Jamie Nordstrom, President of Stores, tells students that they should "join a company whose values align with yours."
Every Nordstrom employee (whether they work on the sales floor or in a support position) is focused on making people feel good, and the culture is centred on creating an environment where employees feel supported and empowered to do just that. Employees are encouraged to work as though it is their name on the door, thinking of themselves as an entrepreneur who Nordstrom is providing with the tools (store, merchandise, technology) to build their own business. Then, they do what they feel is right to build lasting relationships with their customers and provide them with an outstanding experience in keeping with a long-term view of the lifetime value of the customer. Employees are empowered to do what it takes to make customers feel good and have just one rule in all situations that gives them the freedom and flexibility they need to make that happen: Use good judgment.
Customer Experience
Nordstrom's customer service is legendary, and there is plenty of supporting evidence, whether it is a story about searching through vacuum cleaner bags to return a customer's lost diamond, driving a customer's forgotten bags to the airport before their flight, selling a single shoe or Nordstrom employees helping mall shoppers carry purchases from other stores to their cars. One of the most well-known Nordstrom customer service stories is about a man who wanted to return a set of tyres which had been purchased at the store that occupied the same space prior to Nordstrom moving in.
After some discussion, the Nordstrom store manager decided to allow the customer to return the tyres there. All these stories are examples of how the company gives employees the empowerment referred to earlier in this chapter and the autonomy to make their own decisions instead of having an expensive and time-consuming authorization process. Similarly, employees are encouraged to create and make use of their client lists – they personally notify customers of special events and sales through mail or email and send handwritten thank-you notes to new customers.
A seamless blend
In addition, whilst these stories are generally from store settings, The Nordstroms say they are channel agnostic: they don't have a channel strategy; they have a customer strategy. They think of the customer having an imaginary seat in the boardroom and are always seeking to make life easier for the customer not the organization. In this new omnichannel world, Nordstrom is reimagining the role of the physical store, which is now digitized and complements the online channel.
They are seeking to seamlessly blend the sensory experience of the physical store and the personalization and convenience of online shopping, continually adding value to the customer experience to be relevant and attractive to customers.
Systems and processes
Nordstrom is embracing technology in its drive to deliver the best possible customer service. In fact, about 30% of capital expenditure is earmarked for developing the Internet infrastructure. The key point though, is that any technological advancement put in place is always for the benefit of the customer rather than for any other reason.
The systems and processes in the organization are there to support the Nordstrom salespeople and customers. As an example, the merchandising team has been adapted to be more responsive to regional preferences, while at the same time leveraging the company's size and expertise on a national level. The perpetual inventory management system enables a salesperson to track down an item for a customer from anywhere in the company in the time it takes to ring up the sale.
Measurement & Insight
This area is focused on, guess what: the customer!
Over the past five years, Nordstrom has transformed the way that data is used to drive stronger outcomes for the business. The start point was a recognition that marketing expense was outpacing sales, and yet the rate of customer acquisition was declining at the same time. The approach to measurement and insight was re centred on the customer to measure what really matters.
By reorganizing around the customer, the mindset has shifted from one of last click return on ad spend to one of incremental marketing. As a result, expenses are now in line with sales, efficiency has increased, and the rate of acquisition has gone up.
Key SERVICEBRAND insights
The 'textbook' application of the SERVICEBRAND approach; where the customer experience is the ultimate objective and, in effect, the brand itself, delivered by brand ambassadors, and these three elements are supported by systems and processes, and measurement and insight.
How Nordstrom has adjusted the delivery of the customer experience to suit changing tastes and demographics whilst staying true to their high-level purpose and values over time.
The longevity of the humble, 'work hard every day' ethic of Nordstrom founder Johan (John) Wilhelm Nordstrom in spite of the adulation received about the level of customer service provided.
This blog is based on Chapter 17 Nordstrom The Values Economy: How to deliver purpose-driven service for sustained performance: Williams, Alan, Williams, Samuel: 9781912555802: Amazon.com: Books
SERVICEBRAND
At SERVICEBRAND Global, we have a deep understanding of how to align the three areas of Brand Identity, Employee Engagement and Customer Experience supported by Systems & Processes and Measurement & Insight. Contact us to see how we can help you create strategies to dramatically improve your organizational effectiveness and performance.