There is a lot written about the way to be successful and achieve – the importance of goal setting and targets, planning, monitoring progress and measuring performance. But is there another less well understood route to achievement and success through constantly striving to excel, investing in relationships, being curious and encouraging this in others?…because when these things are in place sometimes, for no apparent reason, wonderful things happen….seemingly by chance……Here is a story which reminds us of how little we are in control of the way events turn out but also how we can do a lot to give the best chance of a good outcome, even without knowing what this might be!!
The beautiful Hunter Halls at Glasgow University was the setting for the EuroFM Awards Gala Dinner, a prestigious black tie event in the facilities management calendar. The One Team programme created by the EMC EMEA Real Estate & Facilities function was shortlisted for the Partners Across Borders award. I had suggested entering the award to Bruce Barclay, EMC and that Cathy Hayward, Magenta Associates would be able to help us with the submission. Now Ken and Bruce from EMC, service partner representatives and I were awaiting the announcement. It was already a fantastic achievement to have been shortlisted but the competition was fierce: JCI and Sodexo, two of the biggest, most reputable suppliers in the industry.
It took me back three years to when I was thinking ahead how to let people know about the co-authored book being written at the time with psychologist Alison Whybrow. The book is about the 31Practices approach and how to turn organisational values into the practical behaviour of employees. 31Practices had been used in a number of service excellence transformation projects in FM environments on an international, national, region and individual site basis so entering a submission to speak at ThinkFM in May 2013 seemed like a good idea. I invited Alison to co-present and little did we know that this was the beginning of quite a journey.
Bruce Barclay had been recently appointed into a role at EMC RE&F with the brief to bring his hospitality experience to bear to deliver a culture of Service Excellence across the EMEA region. He attended ThinkFM and our talk struck enough of a chord for him to get in touch – our similar backgrounds combining experience in hotels and FM also helped. Subsequently, Alison and I were invited to lead a workshop with the RE&F Senior Leadership Team in January 2014 where we introduced the SERVICEBRAND approach, creating the concept of a One Team Operating Platform for RE&F and their service partners across the region.
Since then we have provided a range of support including delivery of two Leadership Summits – events designed for EMC and service partners to communicate, collaborate and learn. As an aside, by another coincidence, on day 2 of the EFMC2015 conference, last year's Partners Across Borders winners Deutsche Bank and JCI referred specifically to the power of building personal relationships and face to face meetings. It is interesting to note that this theme has been a core focus of the last two years' winning entries – could this represent some sort of "awakening" in our times of email, Googledocs, conference calls and travel restriction?
Building on the theme of relationships, at the EMC RE&F Leadership Summit in April 2015 I was able to involve several people with whom relationships had been developed over the years: Dagmar Woodward (who I worked for with InterContinental) talking about service, Peter Brumby (Founder and ex MD of Macro) talking about leadership in the context of the Clipper Round The World Race, Phil Whetter (Some Bright Spark) to manage event production, Cathy Hayward (Magenta Associates) chairing the Awards programme judging panel, Chris Carey (Axiom Communications) giving tips on storytelling and communication, Keith Alexander providing a research perspective on the programme. This range of specialist expertise added significant value to the programme that Alison and I had created with Bruce – and delegate feedback was fantastic. But the relationships had come first, not the forum for their contribution.
The success of the transformation journey to this point has been facilitated and enabled by the development of strong relationships, openness to learning and a real collective commitment to the notion of a virtual One Team (virtual in the sense that while people are employed by many separate organisations, this is put to one side in the interest of a shared purpose and common values). It is also due, in no small part, to EMC's commitment at a number of levels, from the mindset in practice (demonstrated by the use of the term "service partners" – never "suppliers") to the very practical (and sometimes shied away from) matter of financial investment.
And the impact is already being felt in the business. Initial results from the 2015 customer survey indicate a significant increase in RE&F performance and customer appreciation; the credibility of the RE&F function has been raised substantially with senior management; and there has been a quantum shift in service provider thinking from seeing themselves as working alongside competitors for one client, to being part of one business family across Europe.
Just as powerful as the tangible results is the "felt experience" within the One Team:
"We have been empowered to implement a lot of small things as part of the service excellence philosophy and customer first approach." Maria Torbina (Russia)
"I think that the initial reaction for most of the service partners, including myself, was that this approach is a crazy idea as we are all competing for business from EMC. However, the more time that I spend working on the programme, the more sense it makes and it makes us all stronger by collaborating." David Chamberlain (Eastern Europe, Middle East, North Africa)
"I thought the One Team approach was a revolutionary idea, a very courageous and ambitious project. I feared it could have been a too dramatic change for us, difficult to pursue in the long term. However it has proved to be a very well planted seed that is paying dividends to us all." Isabella Pozzoni (Southern Europe)
Back to the Gala Dinner at Hunters Hall at the beginning of June…."And the winner is…… EMC…." One of the Judges noted that the EMC submission was "unique" and you can read the press release.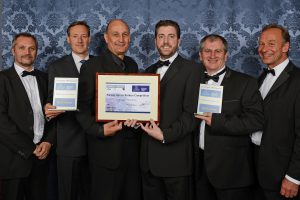 But this is not the end of the journey, far from it….. more like a stagepost. As Ken O'Mahony, senior director EMEA says at the end of the press release "But we will not rest on our laurels. Maintaining this kind of FM business family across borders requires ongoing effort on all sides." The next stage is to build on the momentum that has been created – the wider and longer term impact requires careful monitoring and impact measurement.
Nobody could have predicted that what began with a submission to speak at an FM industry conference would result in the development of such a productive and enjoyable working relationship capped by this industry recognition three years later. But the journey is a testament to constantly striving to excel, investing in relationships, being curious and encouraging this in others…because when these things are in place sometimes, for no apparent reason, wonderful things happen….seemingly by chance……
"The alchemy of relationships, curiosity and serendipity" – the words we chose to dedicate our book to.