In the first blog on Awareness (here) we looked at NLP, calibrating changing and the link between intention and awareness. The second part focuses on feedback loops and the way perception affects our sense of awareness.
"What is necessary to change a person is to change his awareness of himself." -Abraham Maslow
Feedback loops
In your day-to-day life you are experiencing feedback loops all the time and these feedback loops give you a clue about what to do next. When you talk with other people you are usually scanning for signs of connection, understanding, resonance and so on. When you watch two people speaking, notice how the listener will often nod their head or make sounds such as "uh huh". This is valuable feedback for the speaker.
To demonstrate our need for feedback, find someone to talk to and when they are speaking, keep your head perfectly still, do not make any gestures or sounds, keep your face completely expressionless and just look at them neutrally. Notice how quickly the other person becomes uncomfortable. This demonstrates the importance of feedback; without it we do not know what to do.
The next time you meet someone, be aware of the tone in their voice, their gestures, their energy shifts. What is this non-verbal communication telling you about how they feel and how do you respond to it?
By bringing awareness to the way these cues affect you, you will be able to better control the way your cues affect other people. In this way, you will be able to build better and longer lasting relationships with people, as you will understand better the place where their feedback is generated. You'll be able to see the emotional driver behind the mask. Allowing for deeper and more meaningful connection.
It is obvious that you can be aware of things that are tangible, such as objects, other people, the weather and so on. But you can also be aware of things that are less tangible, such as how you feel about something, including when something "just doesn't feel right".
This is very true when it comes to your values. Although we can be consciously aware of some our values, often they may be out of our conscious awareness; they may be sitting in the subconscious. You may become more aware of these values when they are being honoured or compromised.
By way of example, have you experience a situation where everything just seemed "right", where relationships, actions, decisions, results were all so easy, enjoyable, and successful? It is likely that your value/s were being honoured.
On the other side of the coin, have you ever been asked to do something, and you had a funny feeling about it? It just didn't feel right? Did you sense some form of discomfort internally, perhaps in your gut? This was likely to be a subconscious signal telling you that one of your values was being compromised.
Awareness of feedback loops trains us to better engage the world around us, to better understand ourselves and our own values, so we might be of more service to others. In a more understanding and compassionate way.
Perception
Perception is all about awareness. You can only respond to what you are aware of. The British anthropologist, Gregory Bateson, said that to really understand any situation fully, you need to examine it from at least three different perspectives. Take the example of a disagreement between you and someone else. There will be your opinion, the other person's opinion and then what a neutral observer may see.
Take a look at the diagram below. From one perspective a person may be certain that they are looking at a circle, from a different perspective another person may be certain the object is a square and yet from another perspective, the truth becomes more apparent.
How often do you view something from just one perspective? What more might you discover when you take a different viewpoint?
The Truth perspective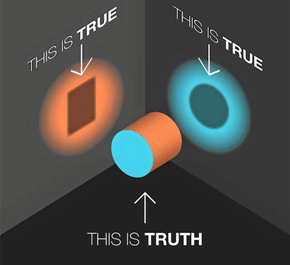 Raising our awareness that the meaning in every situation depends on how we look at it will enable us to make more informed choices with potentially better outcomes.
To change unhelpful patterns of behaviour or habits you must be first become aware of them. If you are looking to change certain patterns of thought and/or behaviour, it is important to notice when you are doing and/or thinking or doing something that works against your higher positive intention and then take action to do something about it.
SERVICEBRAND
At SERVICEBRAND Global, we believe awareness is a key factor in the healthy development of the self, both professionally and personally. By training in awareness, through better understanding of perception and feedback, we can all move closer to being fully aware human beings. People who act on their values in a positive and meaningful way, rather than a reactive and emotionally shallow way. Our 31Practices approach can help you build a sense of awareness and conscious practice at a personal or organizational level.